I did not accomplish much in the way of sewing/quilting this week. I knew it was going to be busy, but I did have hopes...
I order the Farmer's Wife Quilt Sampler book on a whim almost a year ago... And I still hadn't had a chance to do anything with it. I read the letters here and there, and looked at the quilt squares in the book, but that is it.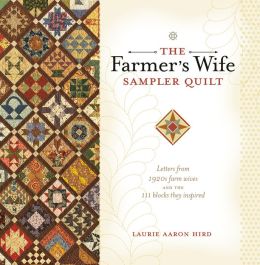 One of my biggest dilemma's was that I wasn't sure about the fabric. I didn't want to go scrappy, I wanted a fun fabric, yet classic fabric/colors that I would love for a long time... I have actually never made a quilt for myself, and I think this one will be mine when it is finally finished.
After I bought a few fat quarters of PB&J by BasicGray I started to feel like that just might be the fabric for this quilt. I did some shopping around to see what kind of prices I could get on a bundle of PB&J and I found an amazing deal at Knotted Thread.
I ordered a Fat Eighth Bundle, as well as a few 1/2 yard pieces of my favorite prints. It was a great price to start with ($44 for 40 fat eighths!) and then I got 15% off my entire order by using the coupon code from
Rachel @ Stitched in Color
. It was a very pleasant experience, I actually forgot to use the coupon code, and then emailed Jennifer at Knotted Thread and told her, so she refunded me the 15%, and she only charges what shipping actually costs! I got the fabric in two business days!
As soon as I got the fabric I couldn't resist diving in. I selected the fabric I would use for the first two blocks. I printed the templates and I got to work.
Fabric for Block 1
Fabric for Block 2
Block #1
Block #2
I am not used to working with templates instead of typical fabric cutting instructions, so that will take some getting used to. I realize that in the quilting blogosphere there has been a quilt along that was hosted by
Fussy Cut
, There is now a
Farmer's Wife 2013 Discussion group on Flickr
and Ellie @ Craft Sew Create is hosting a
Farmer's Wife Friday Linky Party
where you can link up and show off your latest Farmer's Wife Blocks! I am linking up with her today.